For centuries painters have used canvas to express their creativity, and to this day canvas remains the painting surface of choice for beginners and masters alike, especially for acrylic painting. Canvas is a versatile painting surface and comes in a variety of shapes, sizes and forms to suit every need and every budget. Arteza offers a multitude of canvases and canvas panels in a variety of different shapes and sizes. Let's take a look at the different types of canvas, and how to go about choosing the type that will work best for you.

Why Use Canvas?
Canvas is very flexible in terms of size and can be used for everything from tiny paintings to large, expansive works. However, the two main reasons why canvas is such a popular surface among painters is due to how great it feels under the brush, as well as its obvious longevity. Canvas is also much lighter and easier to transport than traditional wood surfaces that were also often used.

What Makes A Great Canvas?
When choosing a canvas there are a number of things to consider, such as fabric, texture, and priming. All of these have an effect on the quality of the canvas and what kind of painting it is most suited to.

Fabric
The fabric used in most canvases is either linen or cotton. Of the two, linen is considered the best due to the quality of the surface and its durability, however, it is also very expensive. Cotton is a more affordable option that provides an excellent surface of suitably durable quality. All of Arteza's canvas surfaces are 100% cotton.

Texture
Canvas is constructed of natural fibers that are woven together, producing different textures depending on how finely it is woven. Different textures are suited to different types of painting. While the smooth surface of finely woven canvas is best suited to smaller, detailed work, rougher weaves are best for broad brush strokes, as well as larger sized paintings.

Prime or No Prime
In order to create a surface that will show the true colors of the paint, most canvases are primed with gesso (pronounced "jesso"), a mixture of plaster of Paris, glue, chalk or pigment, that prevents the paint from being absorbed into the fabric of the canvas. While the majority of canvases are primed, some artists use unprimed canvases for the dull, textured color it produces. All of Arteza's canvas surfaces are pre-primed with three coats of animal-friendly, acid-free titanium acrylic gesso.

Types of Canvases
Canvases are available in various forms to suit different applications and budgets. The main types are stretched canvas, canvas panels, canvas pads, and canvas rolls.

Stretched Canvas
Stretched over a wooden frame, called stretcher bars, stretched canvas is one of the most popular types of canvas for acrylic painting. Most commonly made of cotton, the canvas is primed with gesso to create an ideal painting surface. Canvases are primed for either oil painting or acrylic painting, so make sure you get the right one.

Frames come in different sizes and thicknesses, referred to as deep (thicker) or traditional (thinner). The choice of frame usually depends on how the painting will be displayed — if you intend to frame the artwork, then a traditional thickness is better, while deep frames are suited for unframed paintings, or if you'd like to add detail to the side of the canvas.

Canvas Panels
Stretched canvas can be a bit expensive, especially for beginners—canvas panels offer a high quality, more affordable alternative. Usually made from primed cotton canvas that's mounted onto a rigid board, these panels are great for practice and are lightweight and easy to carry, making them perfect for students. While canvas panels offer nearly the same quality surface as stretched canvas, they don't age as well, and is thus mostly suited for practice.

Canvas Pads
Other common forms of canvas include canvas pads, which are sheets of primed canvas that are spiral-bound in a book. The sheets used in many pads can be stretched or mounted, but as with canvas panels they don't last as long as stretched canvas. Canvas pads are ideal for novices, students or just for practice.

Canvas Rolls
If you're an experienced painter who likes to prepare and stretch your own canvas, or if you'd like to create very large paintings, then you can get canvas rolls. These rolls of canvas are made from either linen or cotton, come in different weights, textures and fibers, and are available either primed or unprimed. They're usually sold by the yard, or in rolls, which can get quite expensive.

Before you invest in any canvas, do some research and check out all the options in order to choose the type of canvas that is best suited to your needs, and your pocket.

Below are some Arteza canvases we suggest for your next creation:

Mini Stretched Canvas, 3 x 3 in - Pack of 14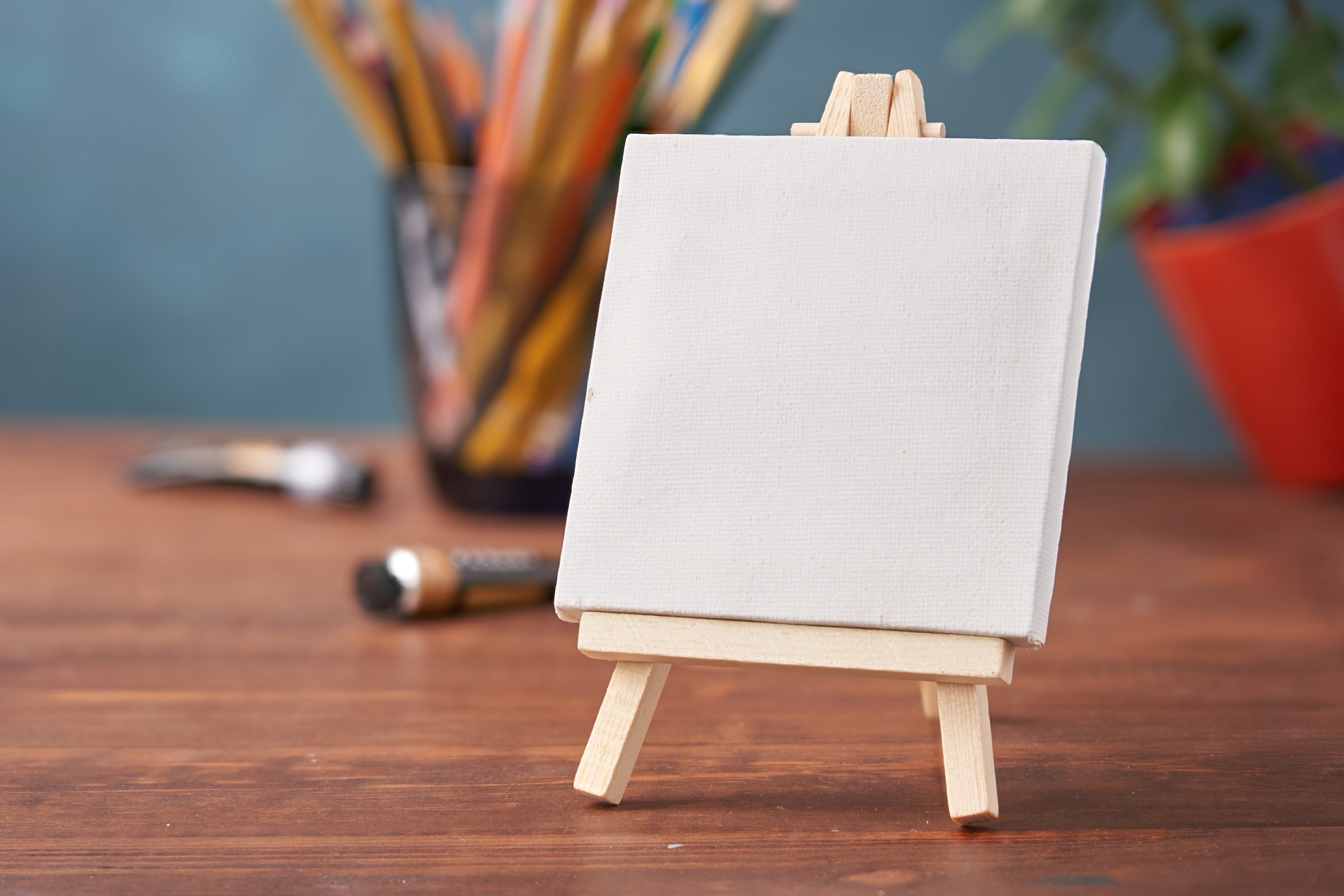 Our super value 14-pack of mini stretched canvases features perfect 3"x3" canvases for your next miniature masterpiece. The 100% cotton canvases featured in this pack of 14 are smooth, and also contain enough grain for paint to adhere to. These sturdy and reliable canvases also come with easel stands to make painting and showcasing your artwork even easier.
Classic Stretched Canvas, 11 x 14 in - Pack of 8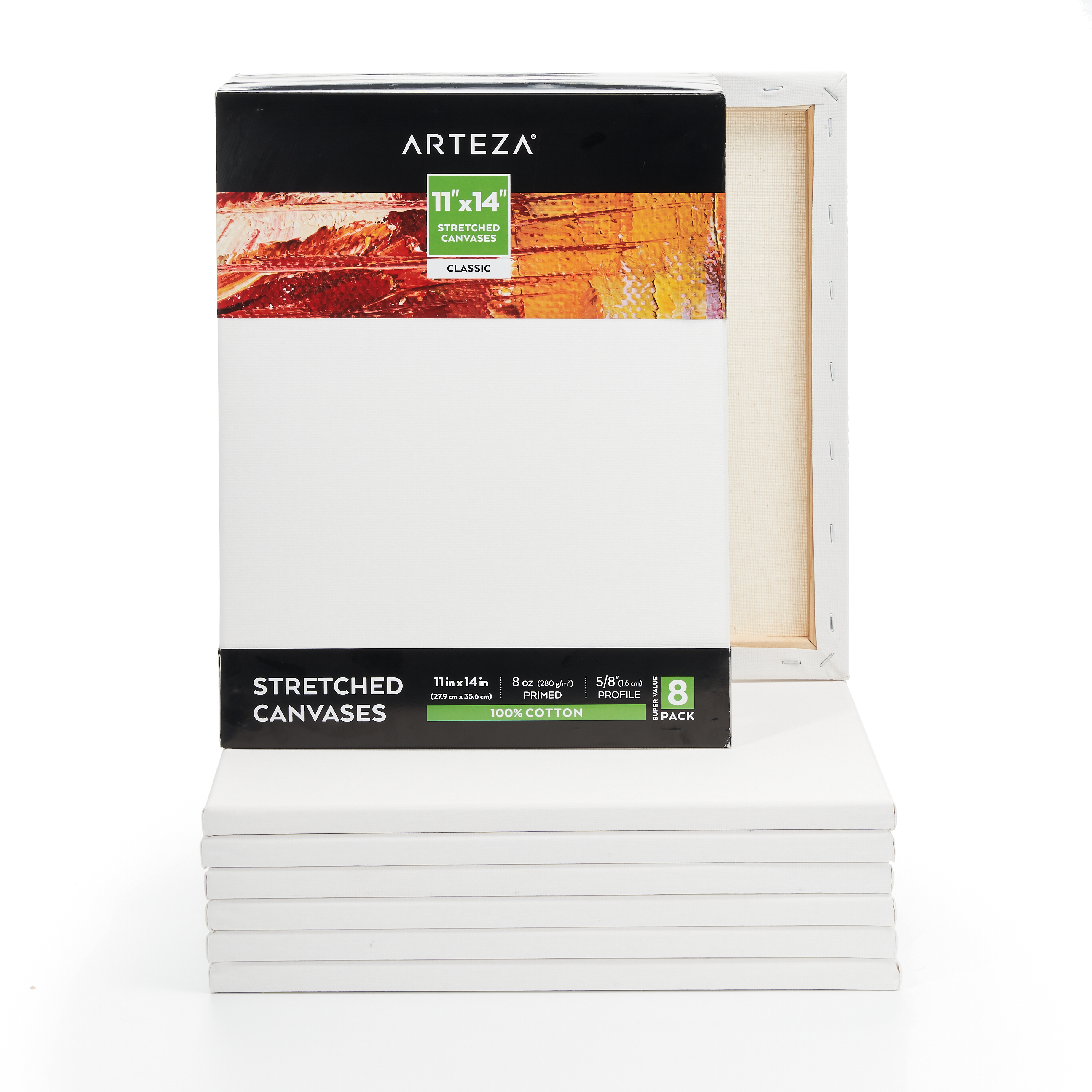 This 8-pack of 11"x14" stretched canvases were designed with your needs in mind. Each canvas comes pre-primed with cruelty-free (animal-friendly), non-toxic, acid-free titanium acrylic gesso. The surfaces of our stretched canvases are made of 100% cotton, which is smooth in appearance, yet grainy enough for paint to hang from. The canvases in this pack of 8 were built to last.
Round Stretched Canvas, 10" Diameter - Pack of 8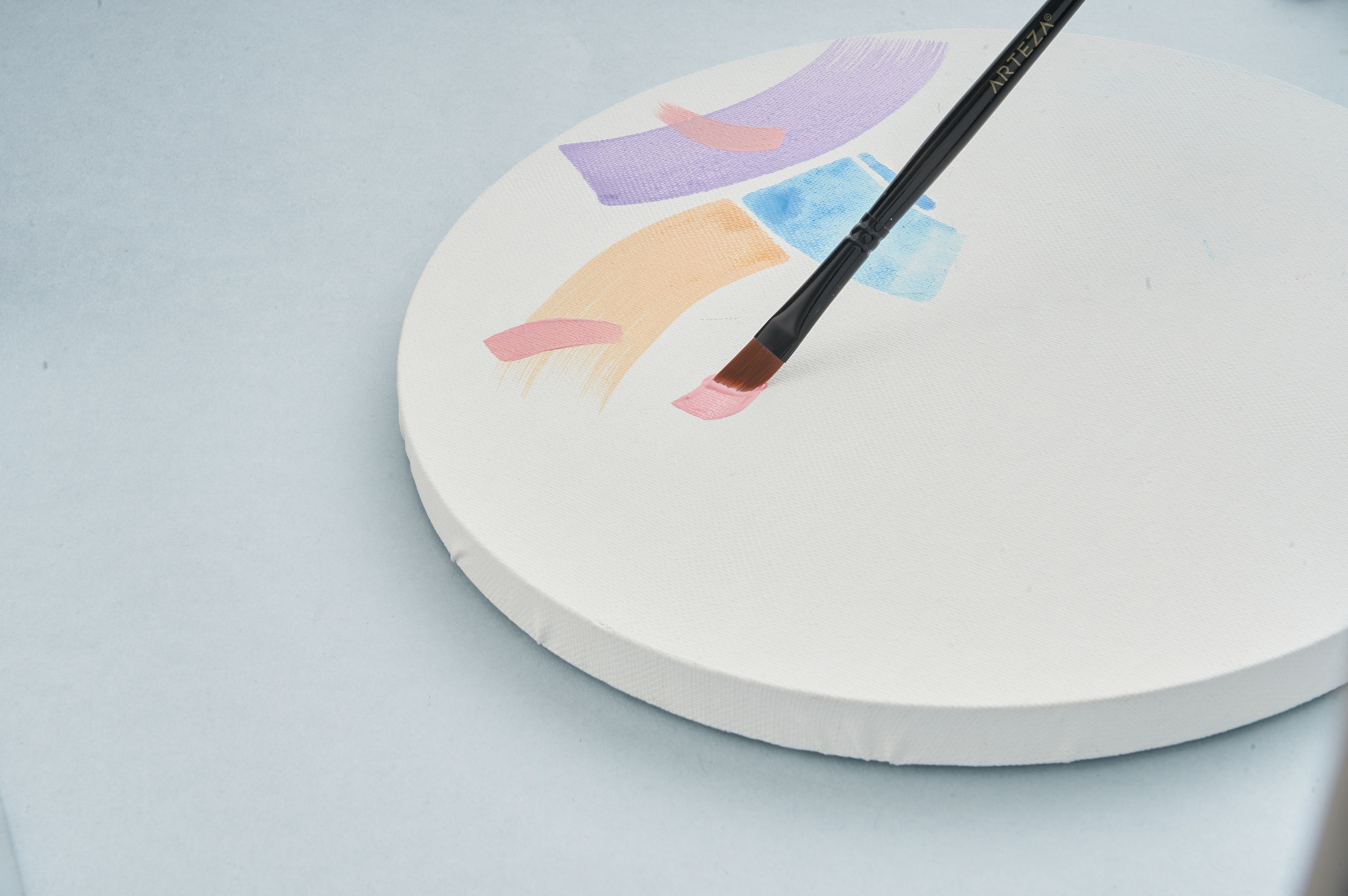 Paint like a professional artist with our 8-pack of round stretched canvases, each with a 10-inch diameter. Each 100% cotton stretched canvas in this bulk pack is pre-primed with three coats of non-toxic, cruelty-free, titanium acrylic gesso—saving you the extra time, money, and energy. 
Stretched Canvas, Black, 11 x 14 in - Pack of 8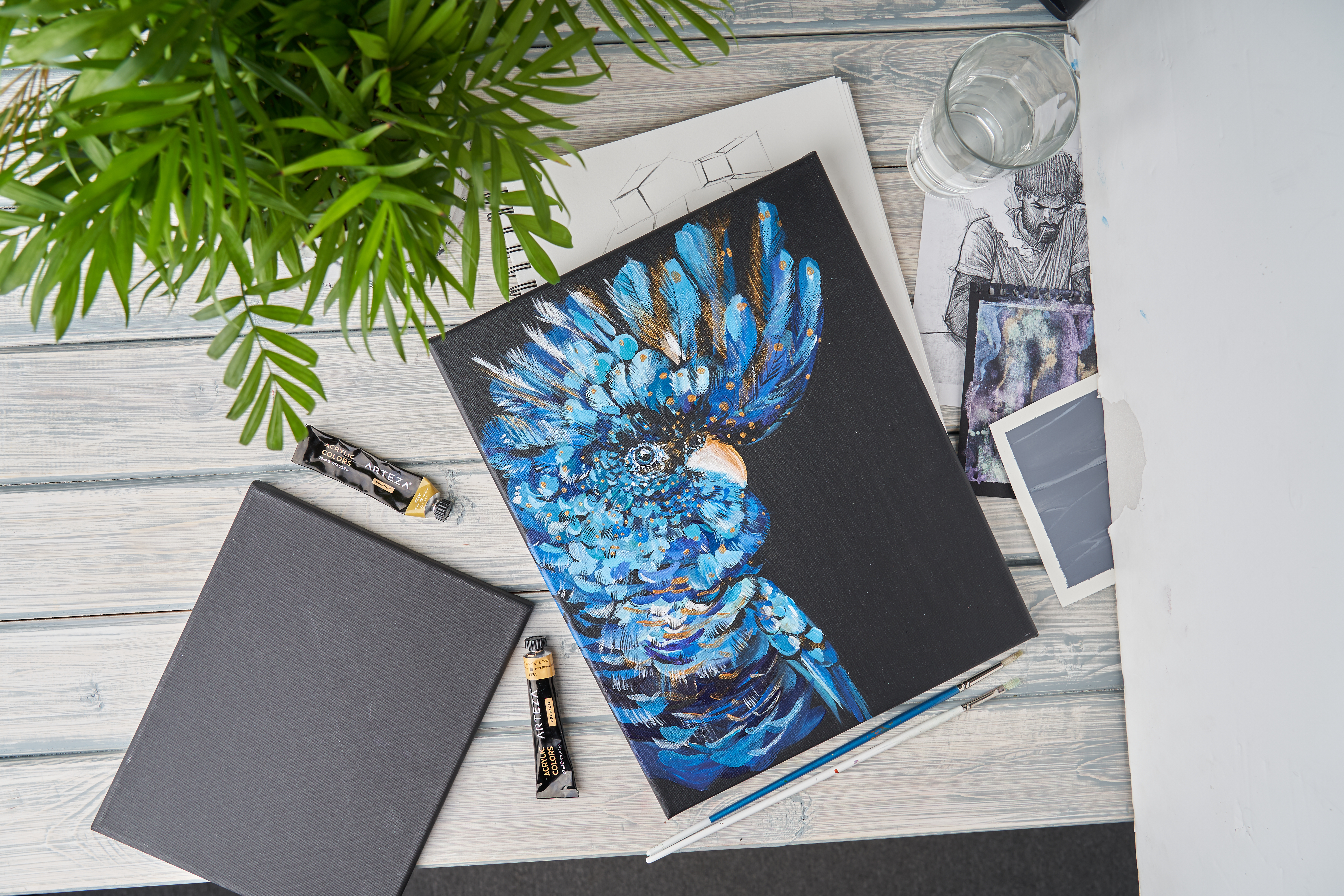 Stock up and save big with this 8-pack of 11"x14" black stretched canvases. Our 100% cotton classic black stretched canvases are pre-primed with black acrylic gesso that allows highlights to pop and shadows to appear deeper and richer than ever before. The black acrylic gesso priming helps you to create dramatic works of art and saves you the time, energy, and money associated with priming your canvases.
Now that you understand the importance of the right canvas, are you ready to create some art? We have some fantastic new arrivals that you'll definitely want to check out. Shop the suggested set below for your next creation.