25 Canvas Painting Ideas
Looking for Things to Paint?
The world is full of art inspiration. Just look around you and you'll see dozens of interesting things to draw and paint. But, in case you're looking for something new to work on at the moment, we've collected ideas for paintings from our team of artists that we know will inspire you. What you'll see here are a lot of different subjects and types of canvas. So, whether you paint in bright colors or soft pastels, hyper-realistic or impressionistic, take a look and get those creative juices flowing!
Canvas is a favorite surface on which to paint because it holds the paint well, it gives a painting a slight textural look, it lasts a long time, and it's lightweight, making it easy to carry. As you'll see in these works, our artists have used both canvas boards or panels as well as those stretch and stapled over a frame. They also have taken advantage of the different sizes that are available to enhance the overall appearance or feeling they're trying to evoke. At Arteza, we offer several ways to have the canvas that fits your style and budget. You can get multiple packs in a range of sizes as well as in white and black. By buying in bulk you can rest assured you'll have a fresh canvas waiting for you when you're ready for one, or be able to work on several paintings at once. 
Now, let's take a look at some subjects you might want to consider for your next painting.

Painting Ideas To Try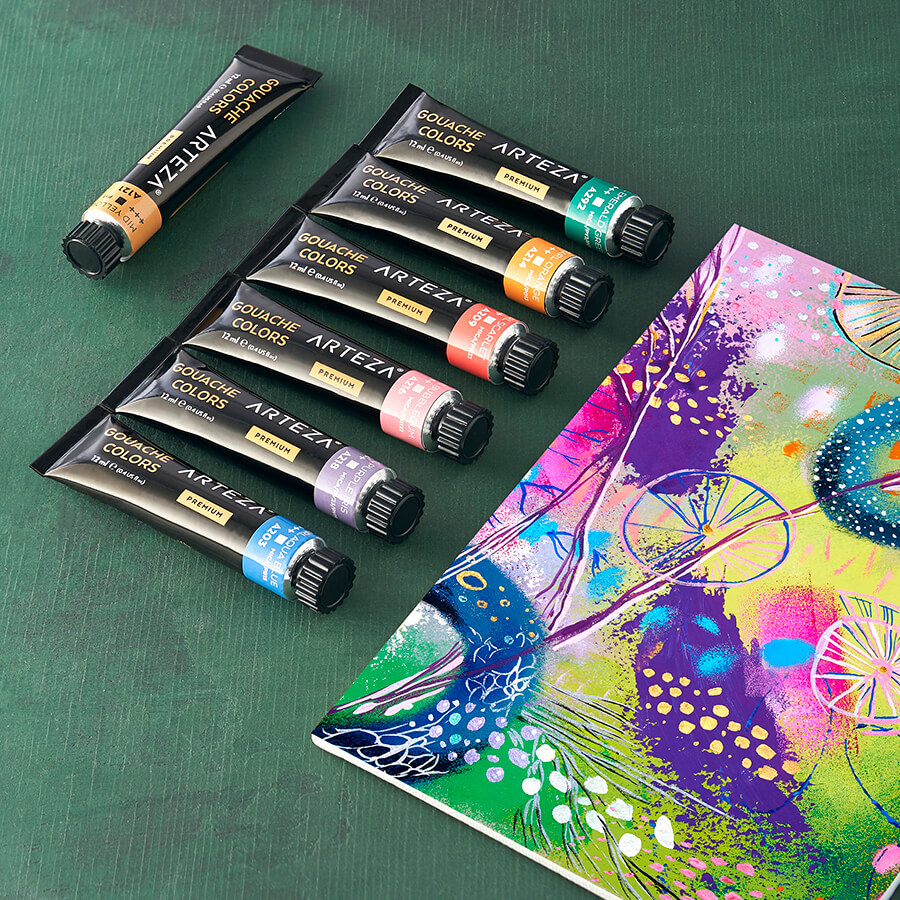 Idea 1. Fantasy Abstracts
Shut your eyes and imagine your favorite colors swirling around you in different shapes. Now open them and start painting, using what you saw. You'll be happily surprised at what your mind has come up with! Here our artist used gouache paint in some pastel shades along with bright hits of color to create this fantasy abstract painting on a canvas panel. Note how she uses a variety of brush strokes along with some splattering to add an otherworldly appeal. Here you can learn how to use gouache.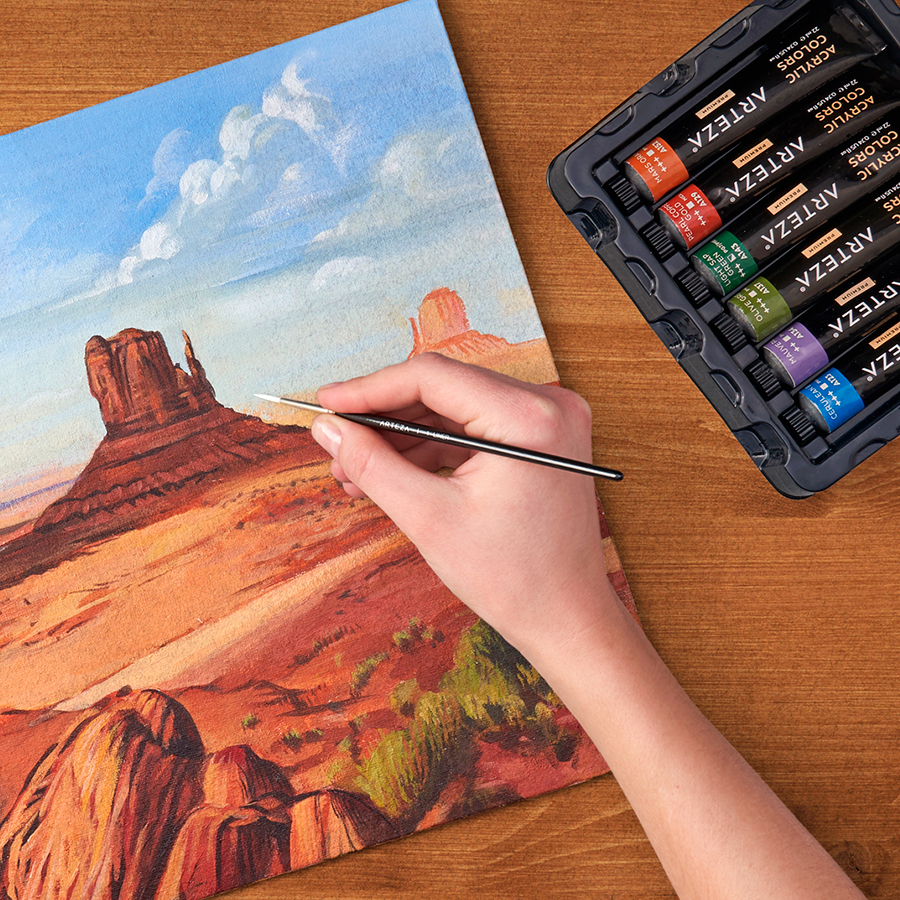 Idea 2. Unique Landscapes
Have you taken a vacation to a faraway place? Paintings of landscapes that are completely different than the ones at home make excellent paintings and will bring back memories. Here our artist uses Arteza acrylics to paint this desert scene on canvas board.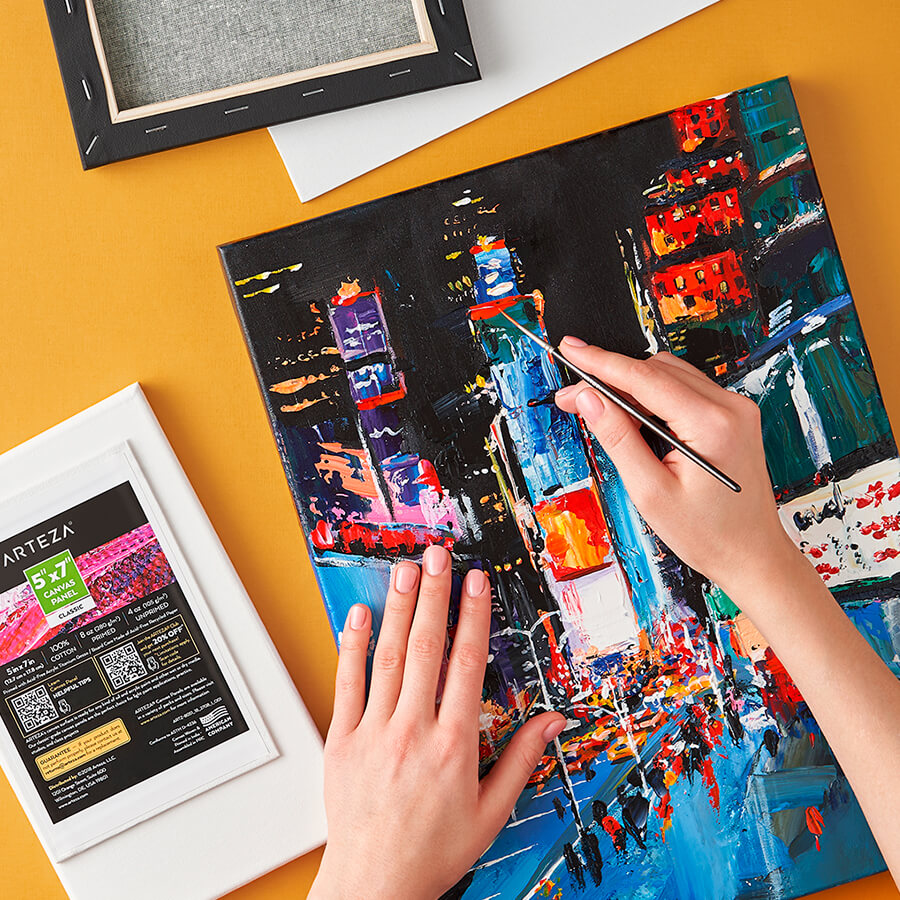 Idea 3. Night City Scenes
The lights of the city really shine at night, so if your style uses big bold colors, you might want to give this a try. Our artist pumped up the color even more by using a black canvas to get the greatest contrast. See how the reds, yellows, blues, and white really pop?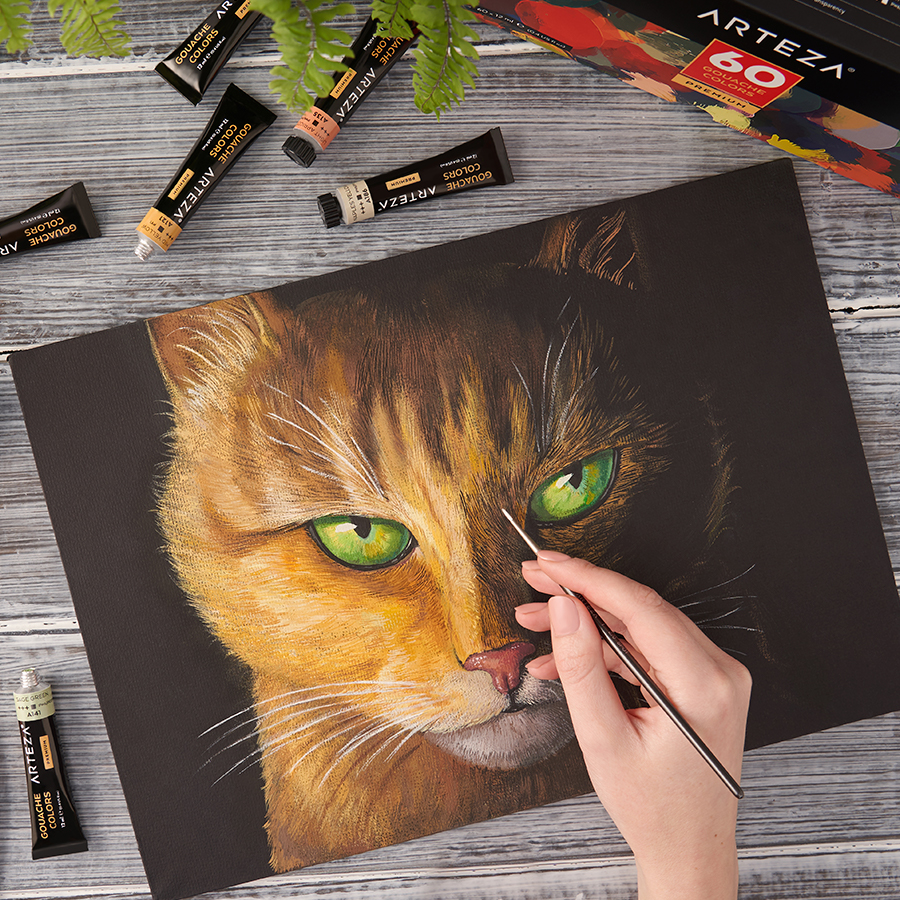 Idea 4. Cats
If you want to practice painting animals, the cat is a perfect choice. Cats tend to stay in place (mostly sleeping) for long periods of time. They also stretch, lick their paws, sit and look out the window, and curl up next to us, which all makes for sweet paintings. You can paint a close up of your beloved cat's face, as this artist did, or use the entire canvas's surface to show its whole body. Best part—you'll have a pet portrait you'll always treasure.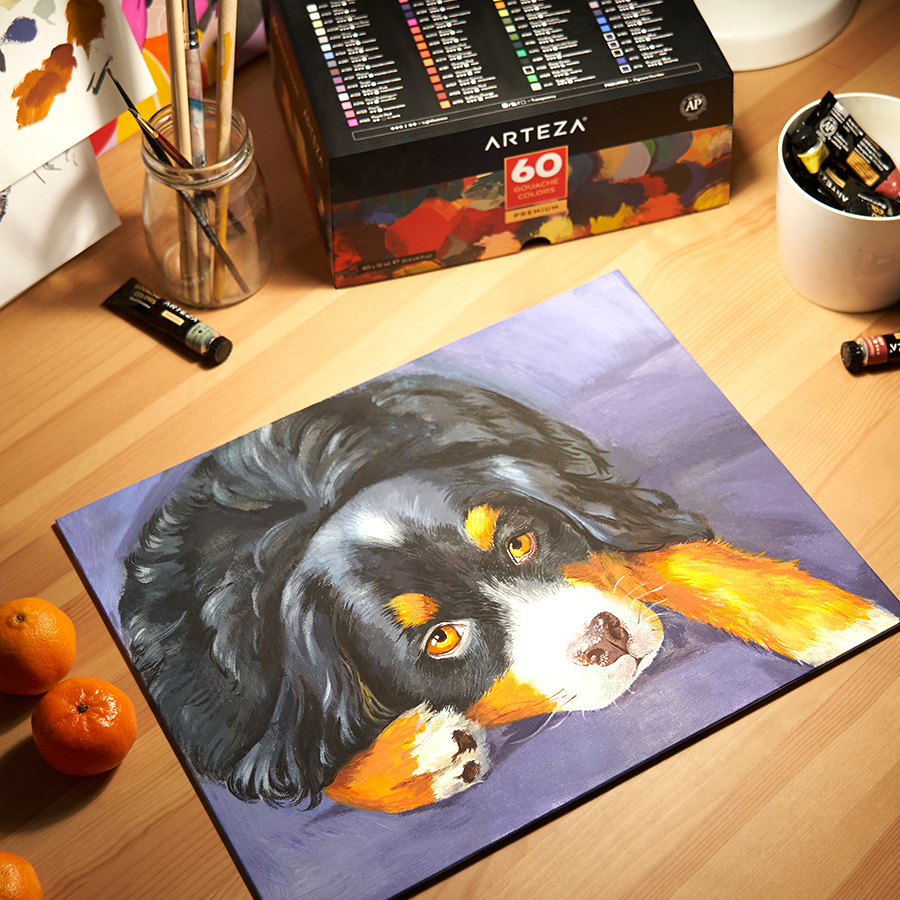 Idea 5. Man's Best Friend
You won't find a more pleasing subject to paint than your dog. No matter if it's a pure breed or a rescued mongrel, your dog has a special place in your heart and always will. So why not immortalize him or her on canvas?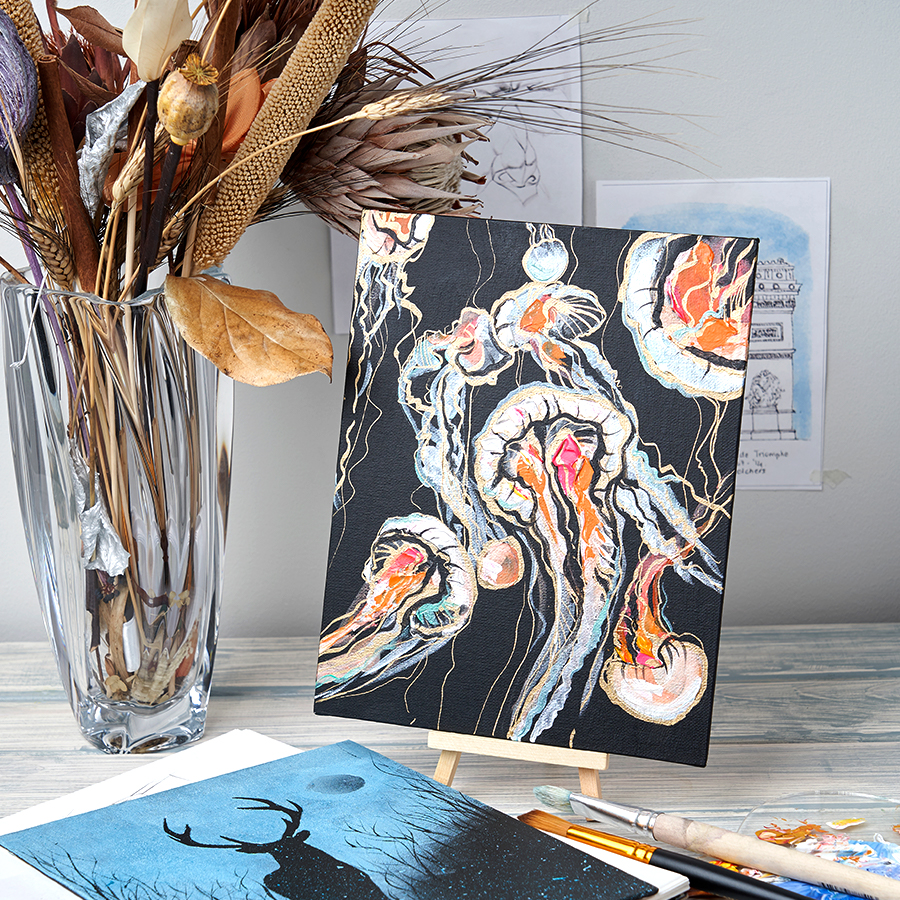 Idea 6. Undersea Life Forms
The ocean is full of interesting-looking creatures. Here our artist chose the jellyfish as her subject and used a limited palette, as well as thick and thin lines to create a composition full of movement. By using a panel, she took advantage of its slim depth to display it on a tabletop easel. This would look stunning on a coffee table or desk.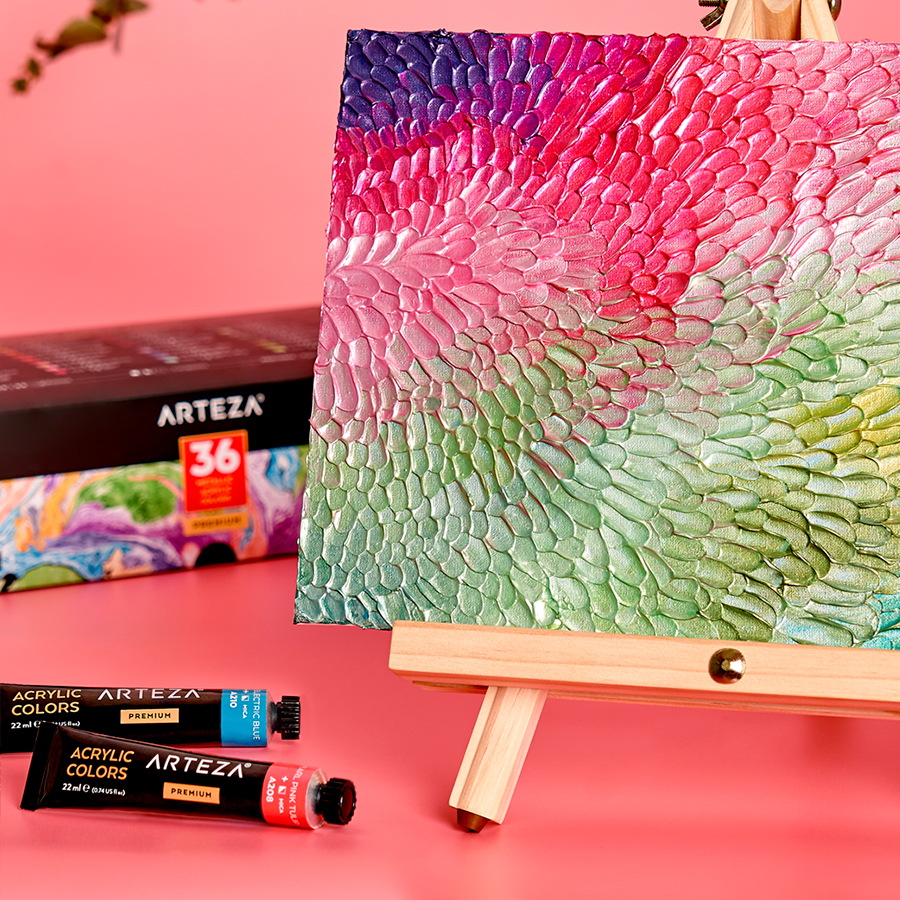 Idea 7. Metallic Impasto Designs
For abstract painters, here's a twist. How about using metallic acrylic paint to create impasto work? That's what our artist did and we think it looks awesome! These rich paints are perfect for using the palette knife to create deep and highly textural strokes. The rectangular canvas gives it an added modern feeling and is the ideal size for perching on a small easel for everyone to enjoy.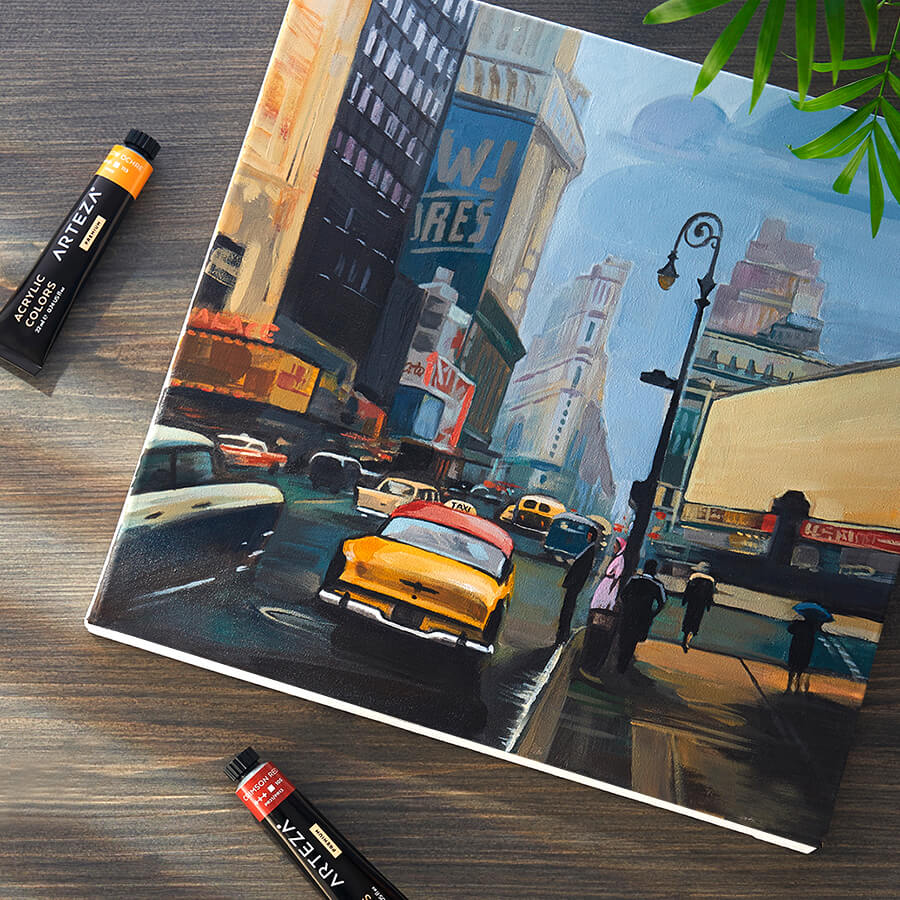 Idea 8. City Scapes
The hustle and bustle of the city is the perfect subject for using metallic acrylic paint. It's opaque enough to get beautiful solid blocks of color while also being able to thin, allowing for more transparent washes for layering and subtle colorations. The sheen that metallic adds reinforces the iron light post and the steel skyscrapers. This was painted on a stretched canvas and will look wonderful framed.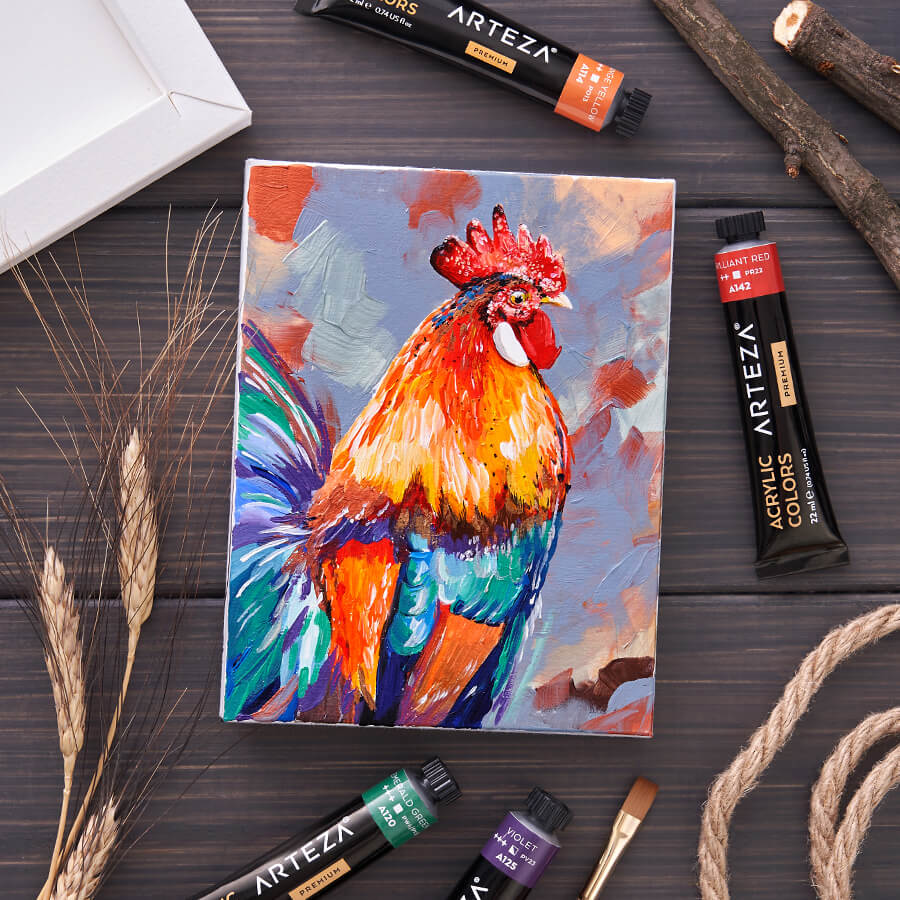 Idea 9. Barnyard Animals
Using lots of complementary colors helps give this painting of a rooster so much energy. Chickens and other farm animals make good subjects because they have so many characteristics that make them adorable. By using acrylics on this stretched canvas the artist was able to capture his mannerisms and personality.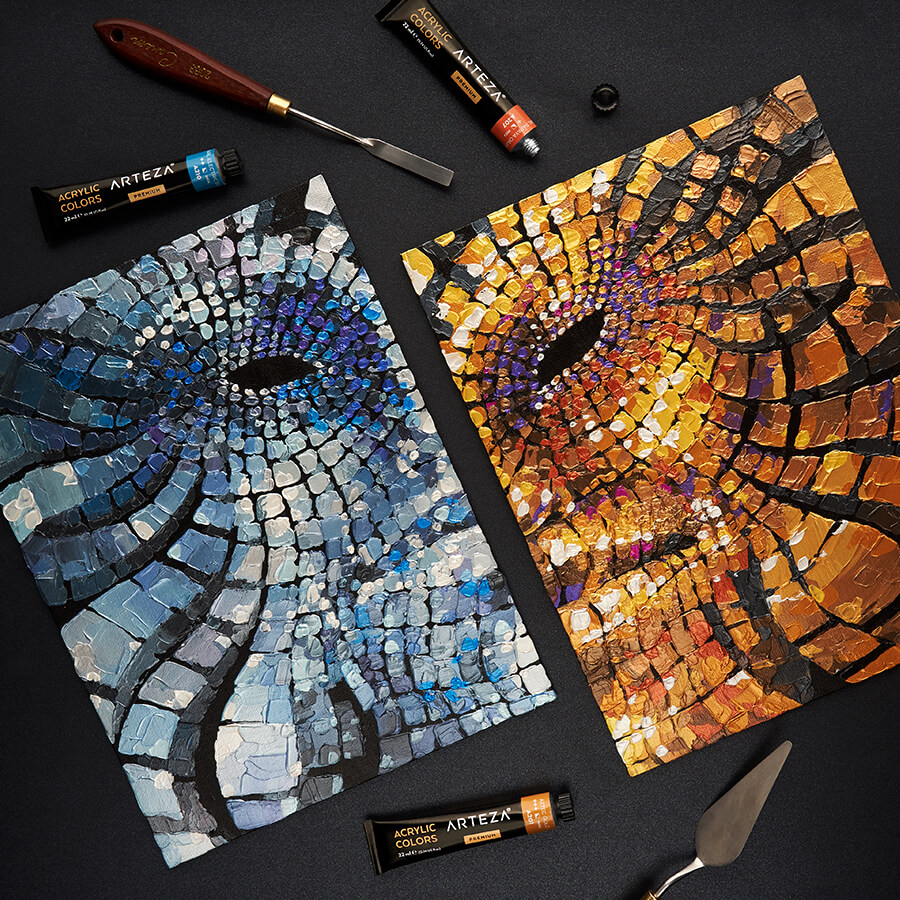 Idea 10. Diptychs
If you look closely, you'll see two sides of the same face that look as if they've been set in a mosaic of tiles. The fun part is that these paintings will look terrific hung alone or as a pair. If you decide to try a diptych (two pieces of artwork that go together) such as this, make sure to paint on surfaces of the same depth. Here they're on two matching panels.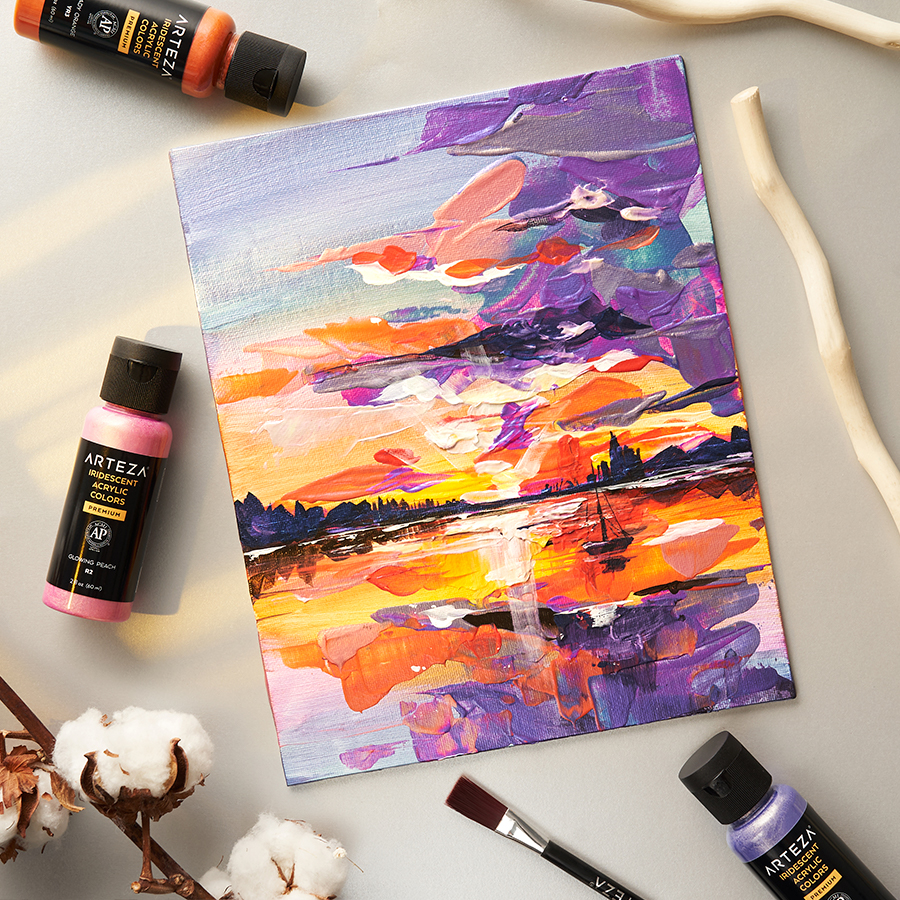 Idea 11. Atmospheric Landscapes
In this impressionistic scene, the artist applied metallic acrylics with loose brush strokes. This gives the painting the ethereal feeling of a lakeside sunset. Painted on a canvas-covered board, the reflection of the sky in the water is beautifully captured. Take pictures of the sky during the early morning or late afternoon hours, also known as the "golden hour," to create your own magical moments such as this.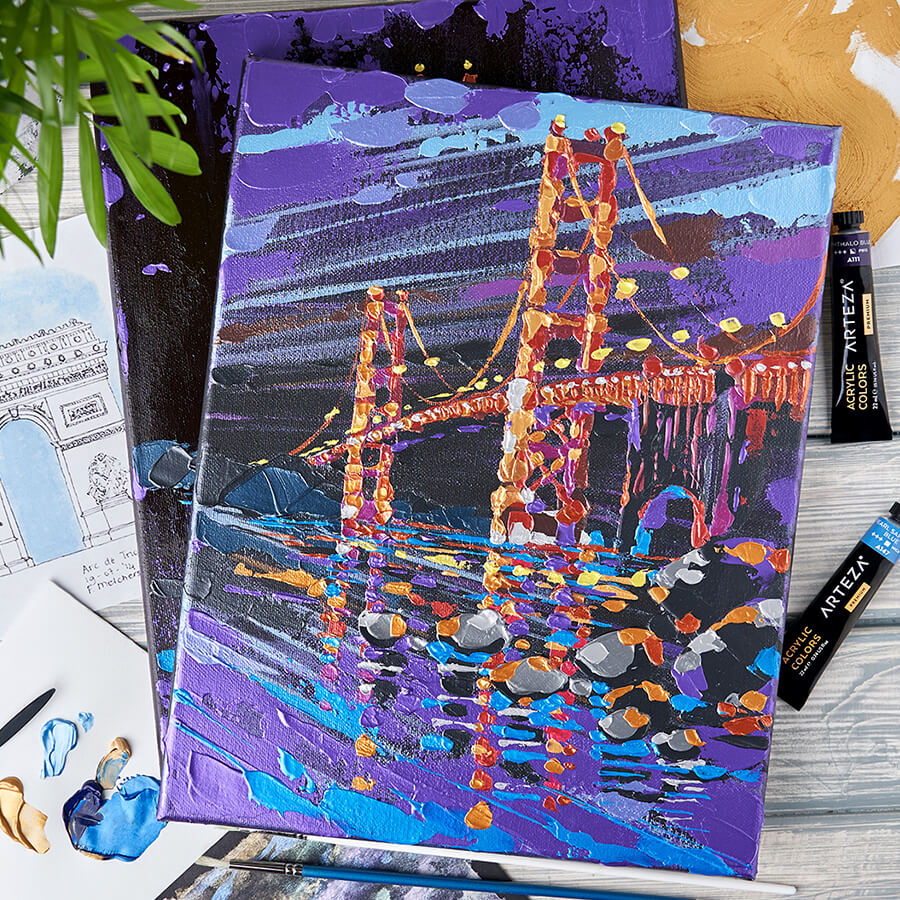 Idea 12. Bridges
Architectural structures make for compelling artwork as you can see in this canvas painting of the iconic Golden Gate Bridge. The beauty of bridges is that you not only have all the intricacies of the framework, but there's also the water below and the sky above to paint. Investigate bridges in your area and choose one. It doesn't have to be a famous one like this; even small ones over creeks and rivers make lovely works of art.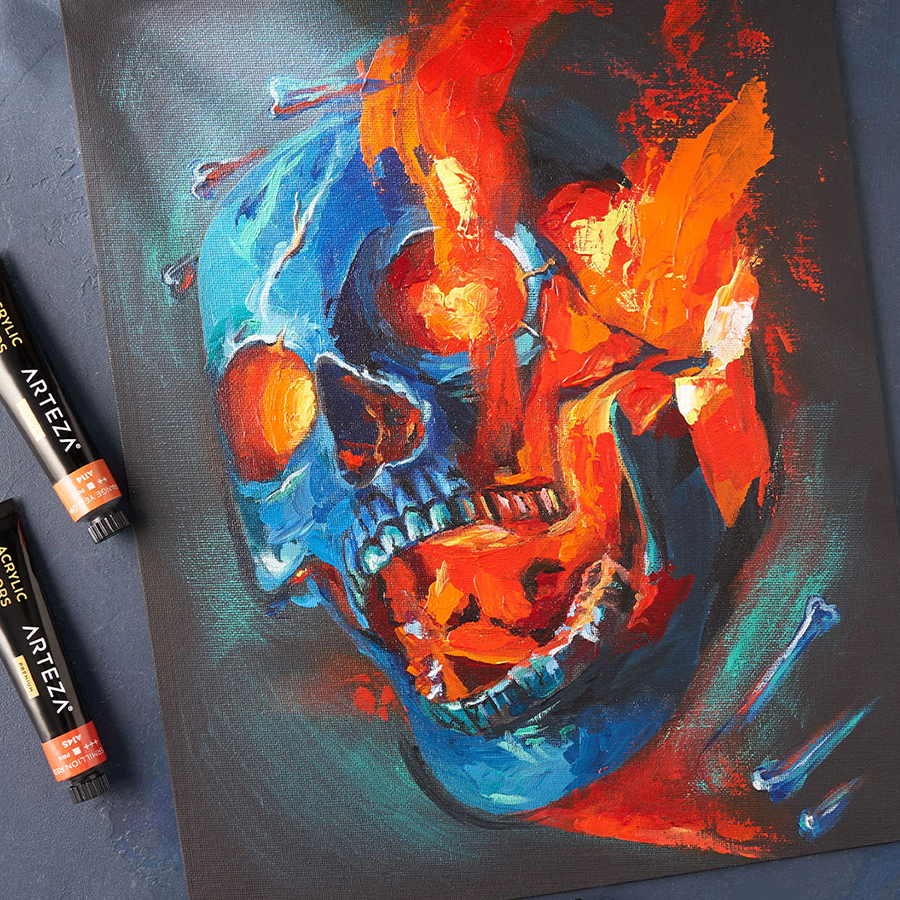 Idea 13. Scary Things
What better backdrop for a scary image than a black canvas. Here the artist used it as an opportunity to emphasize the fire enveloping the skull that's graphic enough to send chills down your spine. What scary creatures would you like to paint? Monsters, vampires, zombies, and other ghouls make engrossing and gripping paintings.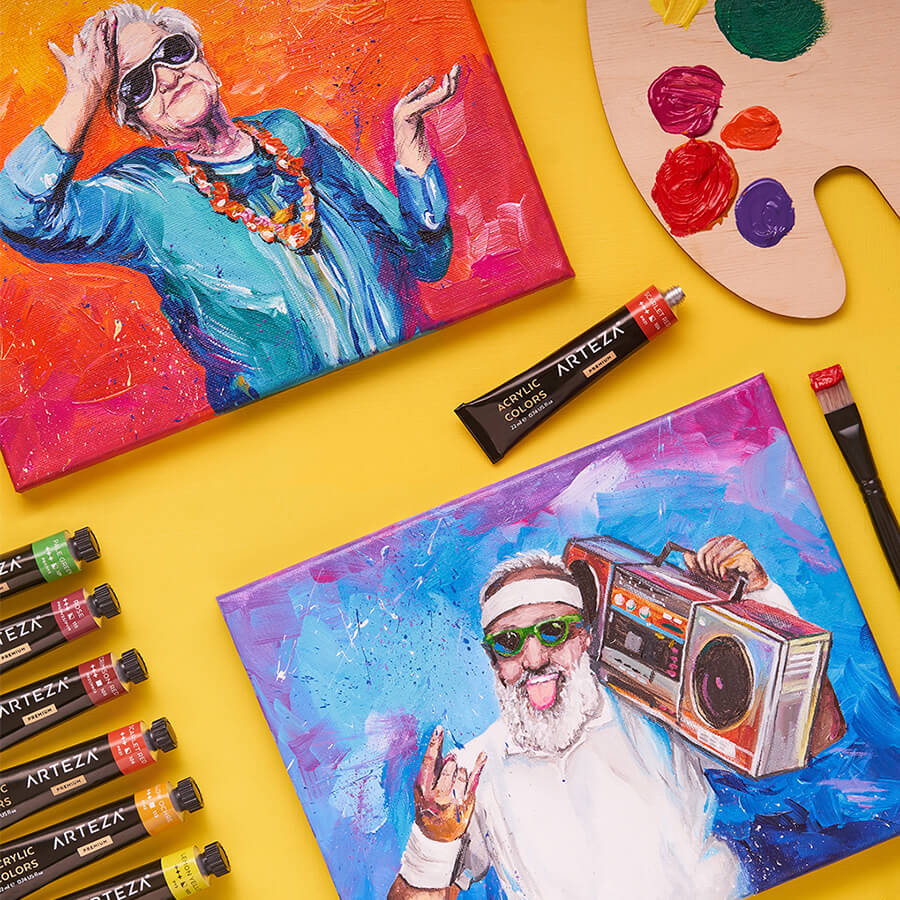 Idea 14. Quirky People
You may not realize it, but your world is populated with fun and quirky people. A fun thing to do is to take some small canvases and make a series of paintings of all the oddballs, individualists, and totally awesome folks you know. Hang them all together on a wall and you'll always have their joyful and free-spirited energy around you.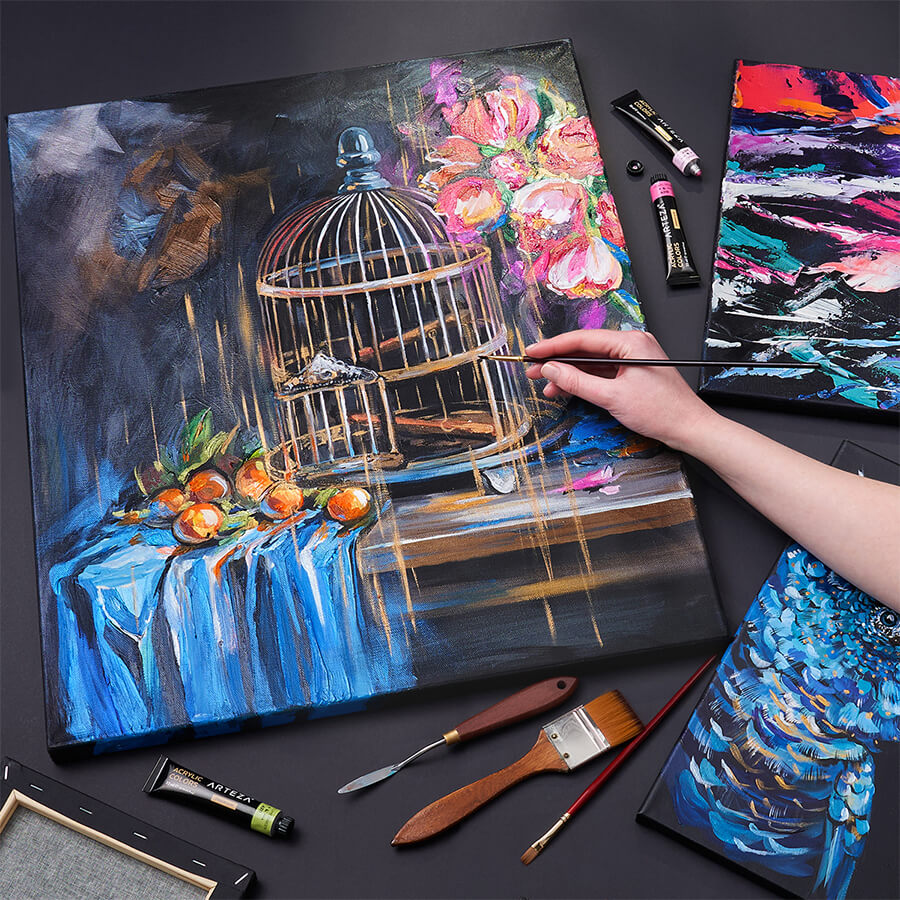 Idea 15. Narrative Paintings
Nothing invites the engagement of a viewer than presenting them with a story to uncover. Is this a sad story about the loss of a beloved pet bird, or is it a metaphor for the artist's struggle to finally break free? Notice how the painter extended the colors onto the sides of the canvas so that it can be hung with or without a frame. What story could you tell in your next work?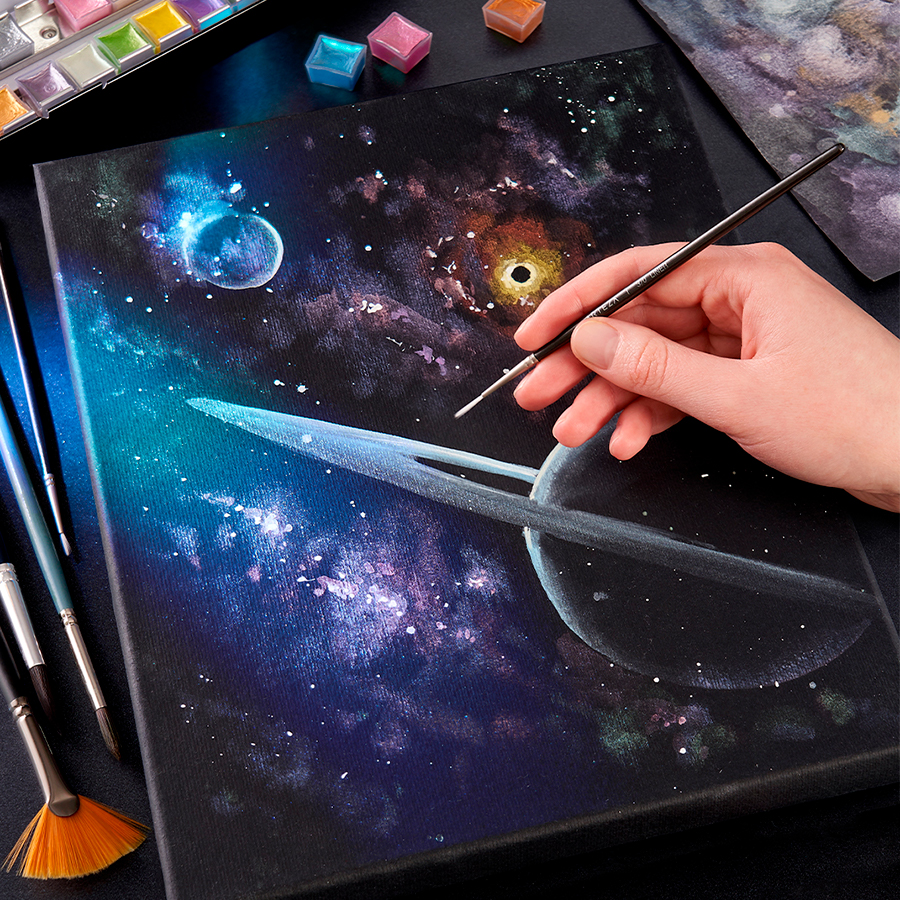 Idea 16. Outer Space
Heavenly bodies have been painted for centuries. It's probably because they're mysterious and unknown. Once again, a black surface is an excellent way to begin painting the galaxy. Within it, you can render real or imaginary planets, meteors, moons, and stars and take us on a trip far, far away.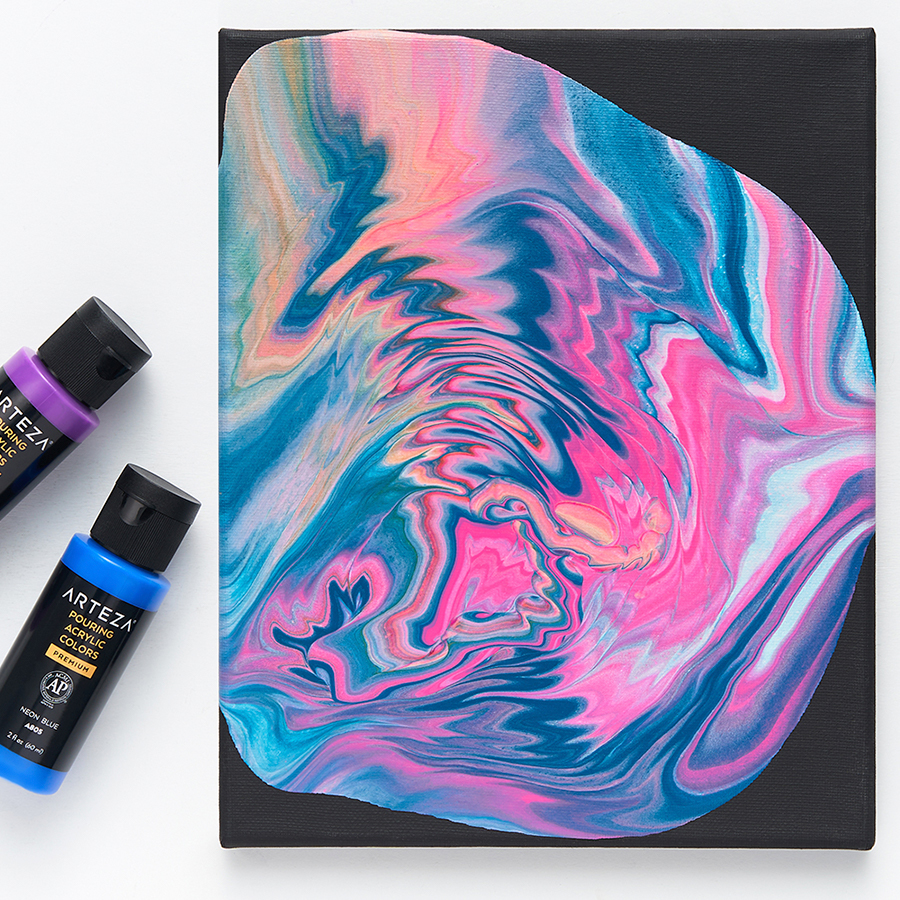 Idea 17. Paint Pouring
One of the best features of canvas stretched tightly over a wood frame is its ability to stand up to quantities of paint without seeping through. This makes it extremely popular for creating poured paint pieces. Arteza carries pre-mixed, ready-to-pour paints so you can drizzle, spill, tilt, and turn a myriad of colors for dazzling effects.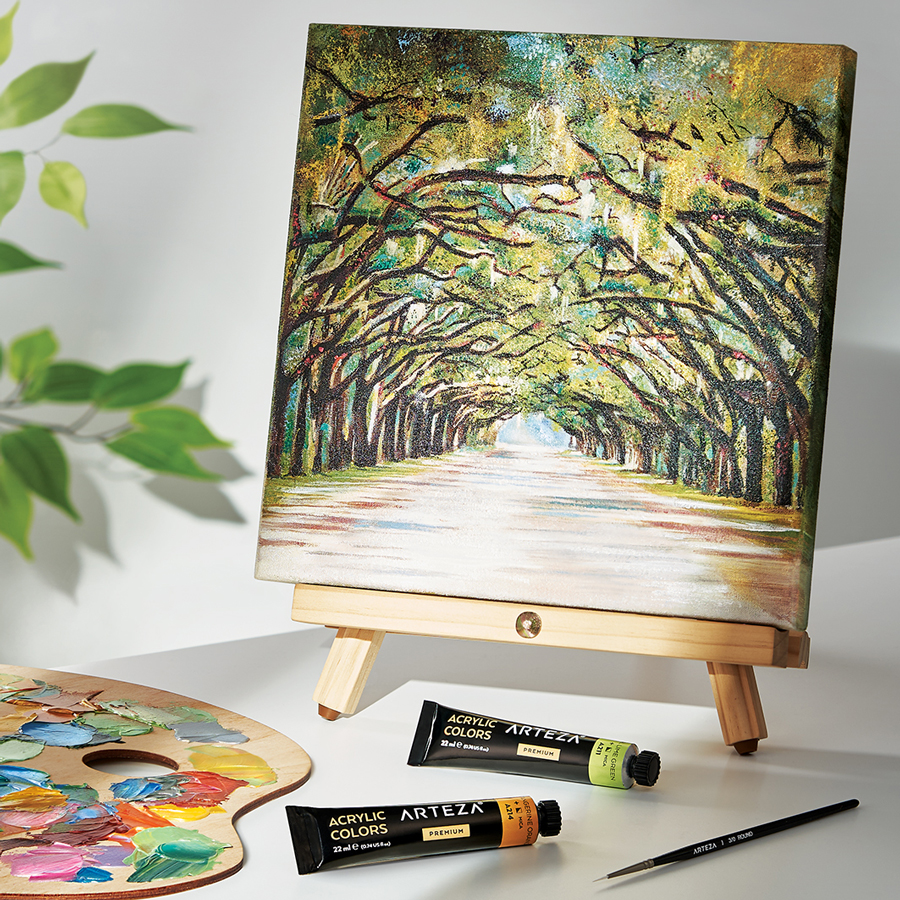 Idea 18. Perspectives
Using the rules of perspective is an instant way to involve the viewer in the piece. Having a vanishing point, especially in the center as you see here, invites the viewer in to travel along a road, path, or waterway. By taking advantage of the canvas's equal sides, it's as if you are looking through a window into another world.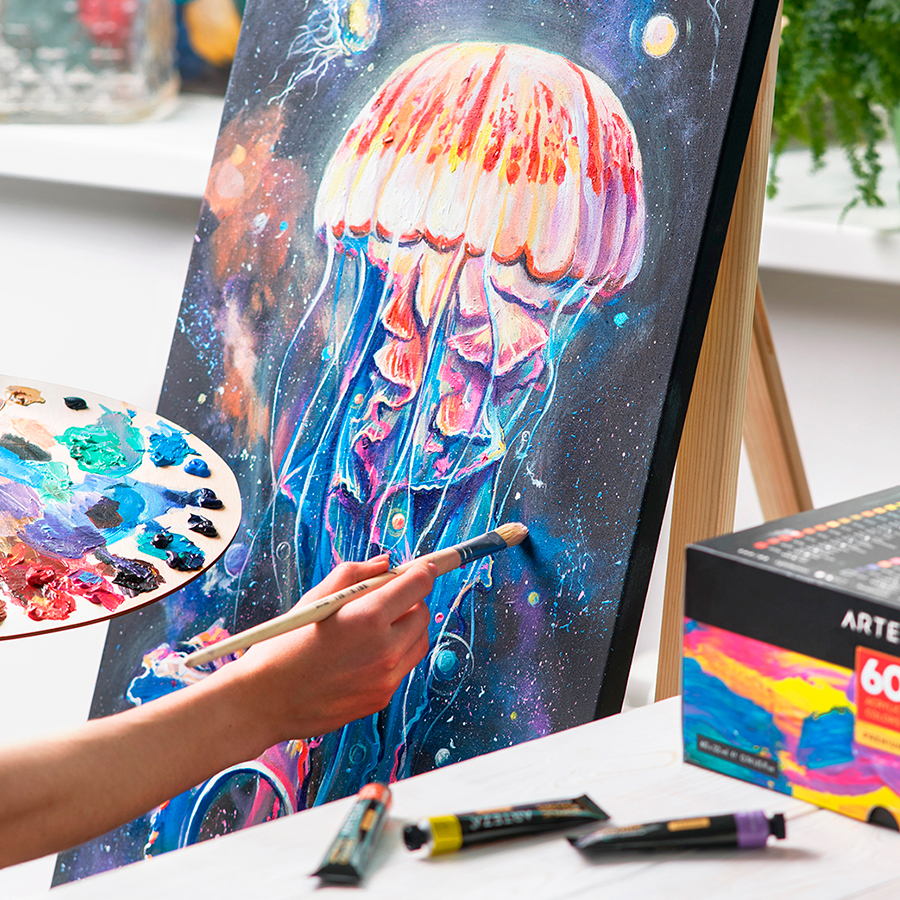 Idea 19. Large Canvases
Try not to limit yourself to just one size surface. Many subjects lend themselves to a larger scale. The depth of the ocean and the long tentacles of the jellyfish are emphasized here with the adoption of this large, rectangular canvas.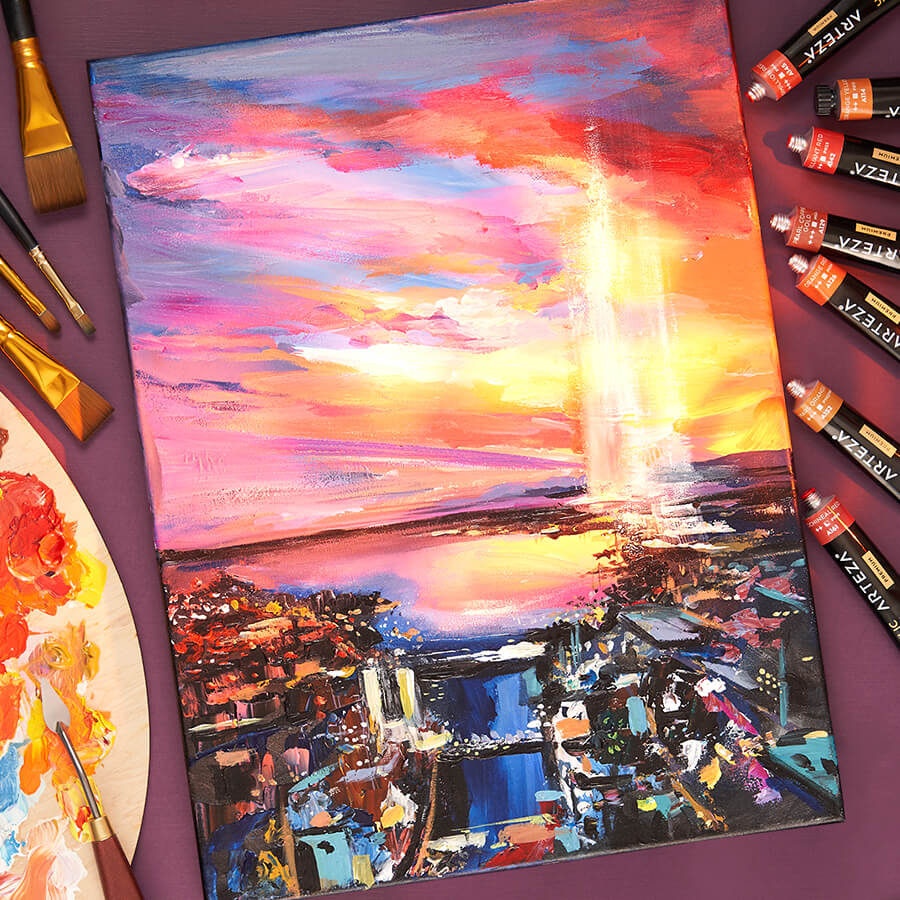 Idea 20. Bird's Eye View
Ever looked out the window of a plane and thought that it would make a spectacular painting? When you choose a bird's eye view, you give that same feeling to those who see your work. It can be really breathtaking. You can find these kinds of images online to use as a reference or a photo taken from a drone (if you have access to one) would be cool!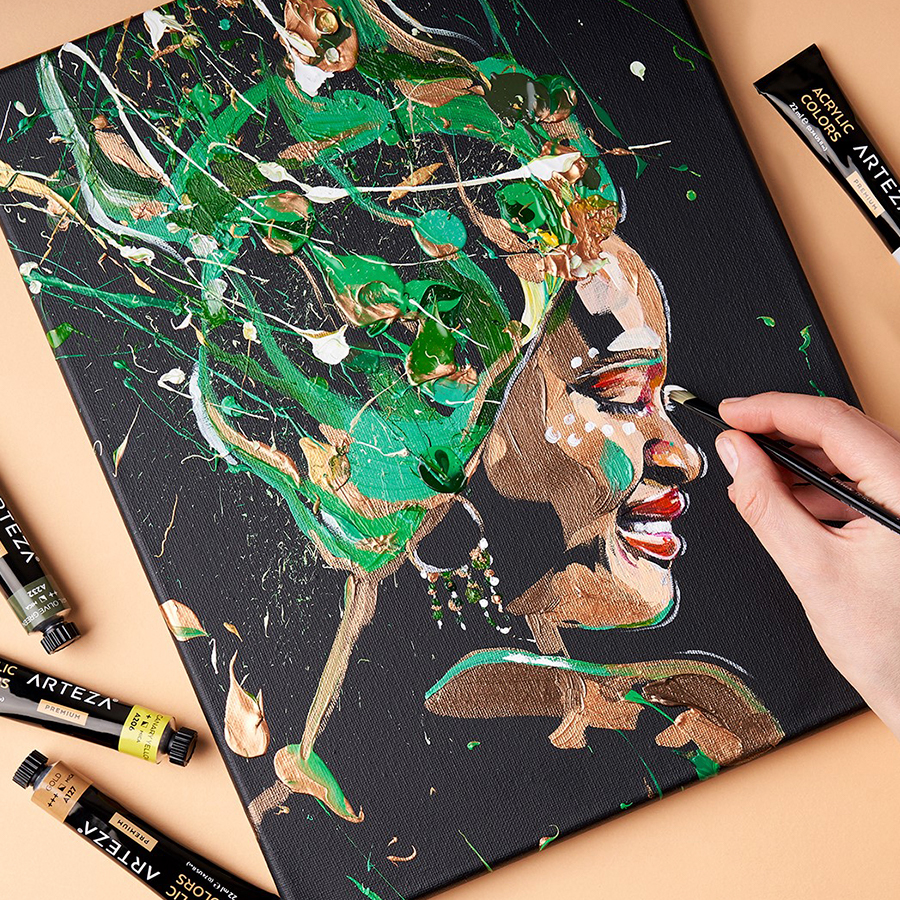 Idea 21. Portraits
One of the most traditional types of canvas paintings is portraiture. You can paint one either from life or from a photo. If you have someone willing to sit for you, place the canvas on an easel perpendicular to your subject to ensure accuracy. Photos allow you to trace an outline of the person and then you can go crazy painting them however you like!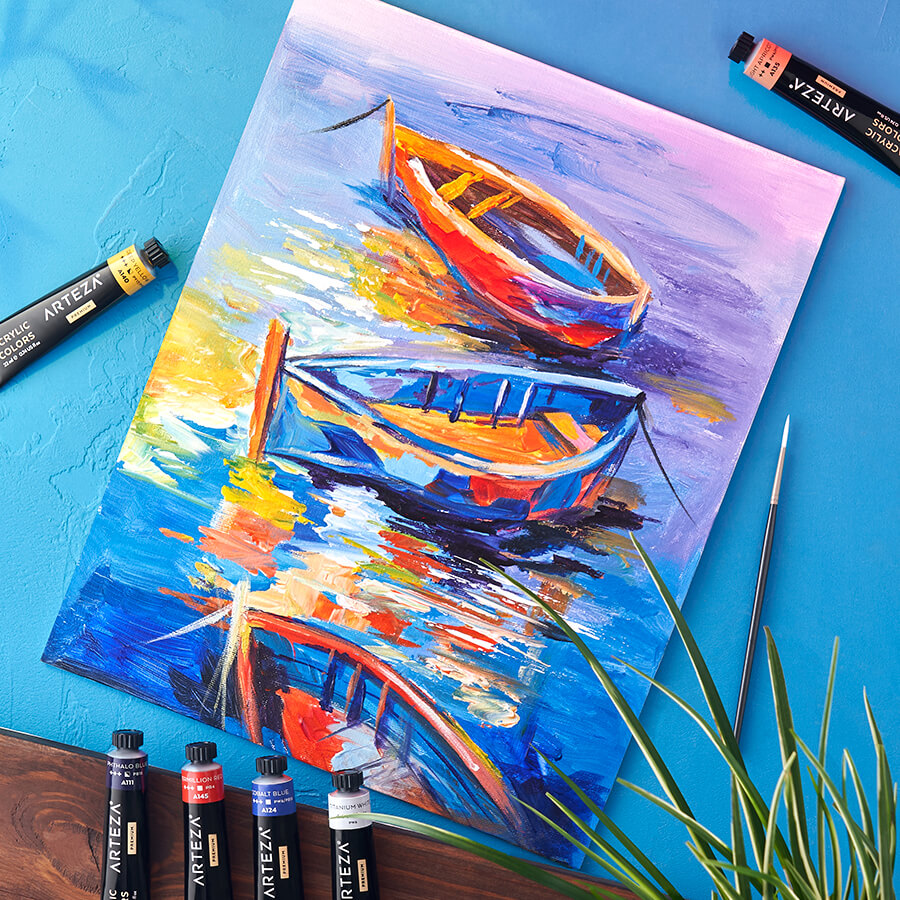 Idea 22. Boats
Seascapes and paintings of boats are very popular as wall art. They also provide the opportunity to paint "en Plein Air" or outdoors. Take a portable easel, a few canvas boards, some paint, brushes, and a comfy folding chair and you have all the ingredients for a relaxing day by the lake or at a marina.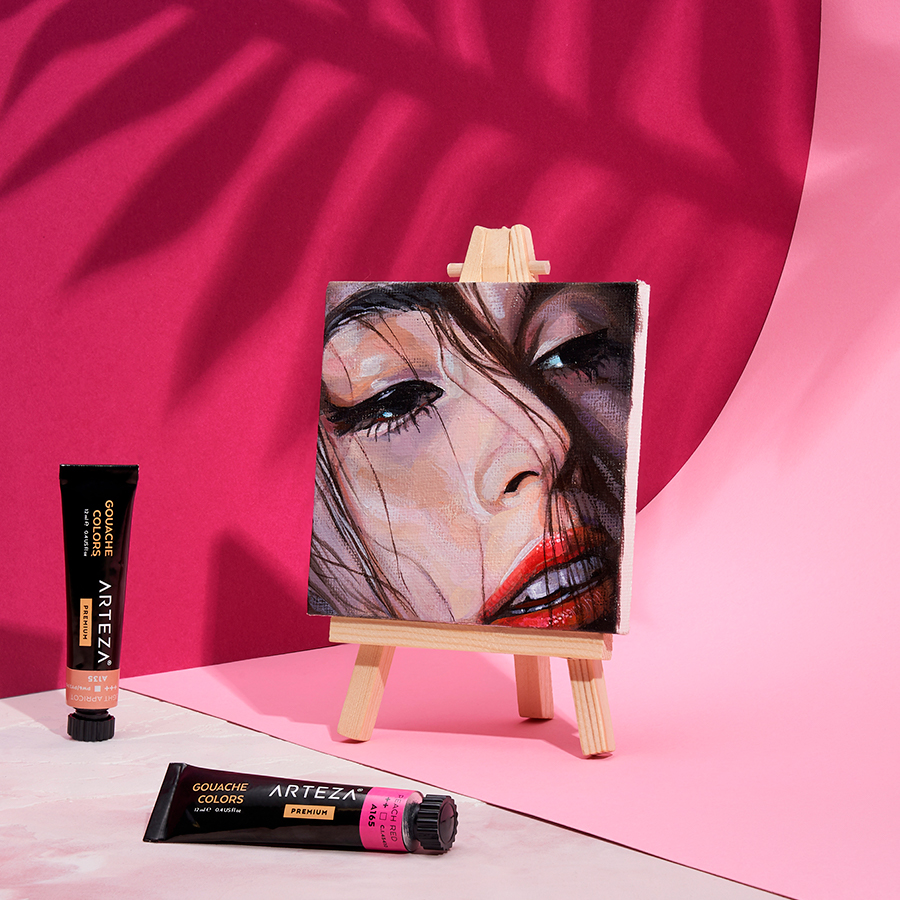 Idea 23. Tiny Paintings
This hyper-realistic portrait is juxtaposed with the small size of this canvas to give it a surreal look and feel. By getting up close to his subject, the artist was able to convey even more emotion. Experiment with doing something similar on a set of tiny canvases and you'll end up with an alluring gallery of little, yet hugely impactful canvas art.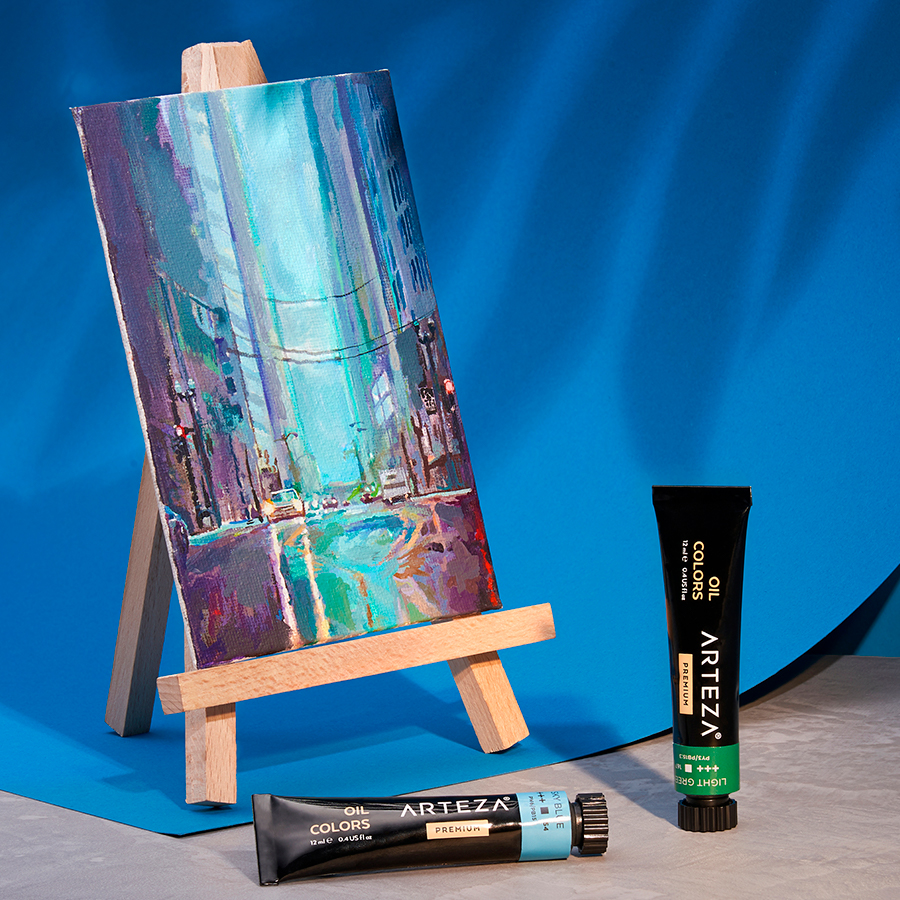 Idea 24. Rainy Days
Some of the most famous paintings depict a rainy day. That's because rain causes fascinating reflections, colors, and atmospheres. It can be a stormy, gray day or an early morning mist against a blue sky. It looks different hitting a city sidewalk than it does a hidden forest. So, don't let the rain keep you from painting!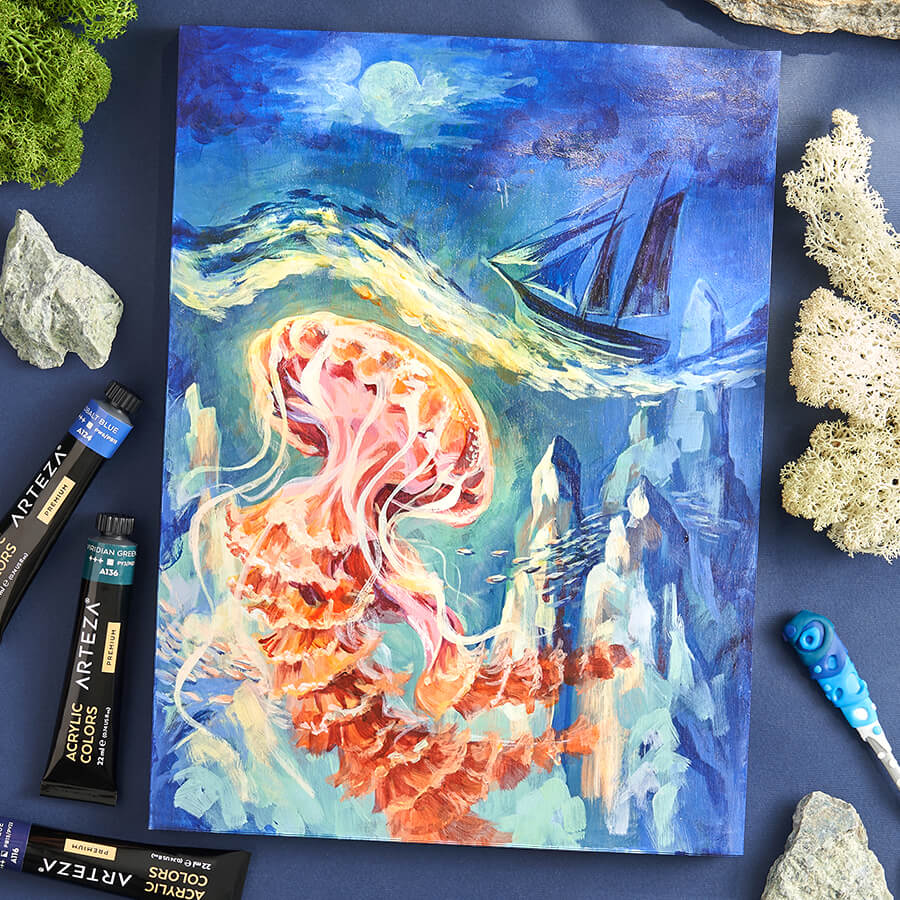 Idea 25. Slice of Life
The idea here is to show both the seen and the unseen for a dynamic composition full of movement and intrigue. You can take just about anything you see and with a little imagination show it and what's beneath its surface. Some ideas might be a tree and its roots or a city sidewalk and the infrastructure of pipes below it. It's fun to ponder on what lies underneath our feet. 
There you have it. Twenty-five ideas to get those wheels in your mind turning. Try one or some, or challenge yourself to complete all of them! You'll be amazed at how many more ideas will come from doing that. We'd love to hear which ones were your faves and any other ideas you can share. Until then, happy painting!
Want More Content Like This?
Subscribe & have it sent right to your inbox.